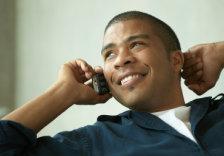 Telephone Banking
No computer? No problem! Manage your accounts with just a touchtone phone.
Our free Express Phone Banking service gives you easy access to your State Bank and Trust accounts without having to come to the branch or even turn on your computer. Check your balance, transfer funds, and more. It's all just a phone call away!
Summary

Access accounts from any touchtone phone

Available 24 hours a day

Free service to all State Bank customers

PIN required

Check your balance

Monitor latest deposits and withdrawals

Hear current interest rates

Request a fax of account transactions

Transfer funds between State Bank accounts

Try Express Phone Banking now by calling 1-877-455-1898 and following the automated teller's instructions.